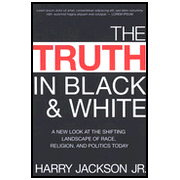 The Church Must Come Together for Justice and Righteousness
With the presidential candidacy of Senator Barack Obama, the national discussion of race in politics has moved to center stage. The recent media frenzy over the comments of Rev. Jeremiah A. Wright, Jr. has caused many to examine the politics of black churches, asking if it possible for black and white Christians to find political common ground.
In his new book The Truth in Black and White (FrontLine, May 6, 2008), Bishop Harry Jackson presents his vision for a new coalition of black and white evangelicals. The moral values preached from their pulpits are the same and Jackson believes that when social policies undermine these values, the church can find common ground and unite behind a common cause.
"It is time we moved beyond stereotypes and started dealing with issues that ought to concern all Americans, regardless of race or social status," Jackson says. "We need to make a conscious effort to seek truth and live by it in everything we do."
Jackson is convinced the nation is ready for dramatic, positive change and our churches are key to this transformation. The Truth in Black and White presents the vision that a new coalition of black and white evangelicals will prove unstoppable as it promotes both righteousness and justice, grounded in the same moral and biblical foundation that gave the civil rights movement its force.
Get Spirit-filled content delivered right to your inbox! Click here to subscribe to our newsletter.
Subscribe to Charisma and join a family of believers that enjoy God's presence and operate in the gifts and the fruits of the Spirit. Live your life in the Spirit!
Woman of God, you are anointed. Step into your destiny and live a life of boldness, power and strength. Get the Anointing Bundle plus 2 Free Gifts. Learn More.
Learn to hear God speak, encounter the Holy Spirit, and soak in His presence. Order the Holy Spirit Series for you and get a FREE set for a friend. View Special Offer.